Past Incidents
STA 3
STA 9
2015
1115
955
2014
1112
1009
2013
906
845
2012
1009
92
2011
1115
955
2010
1119
902
2009
1216
933
2008
1127
890
2007
1075
935
2006
1149
833
2005
935
756
2004
873
825
2003
918
832
2002
847
695


---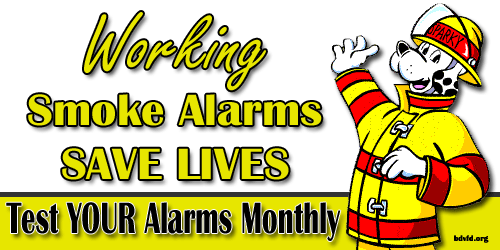 Southern Maryland Firemen's Association Good To Bay District

Public Information Officer Douglas Medley, May 03

On April 30,2016 the Ridge Volunteer Fire Department hosted the annual firemen's convention and memorial service at their station. It was a somber day as each county paid their final respects to their departed brothers and sisters. The list of departed is always long and when you have one of your members in the list seems to make it very long.

This year it was time to pay our respects to our brother ... (Full Story & Photos)



Fire Chief Joe Gould accepting an award for fire prevention from the Deputy Chief State Fire Marshal Duane Svites of the Southern Regional office.


Volunteers Take In Solomons House With People Trapped

Fire Lieutenant Daniel Martin, May 01

At 1000 hours, Company 9 was alerted to the 10000 block of Poplar Drive in Lusby for a House on fire with people trapped. Engine 91 (SGT Young) responded with 4 men. First due units arrived on scene of a one story home with fire showing. Solomon's Chief 3 arrived on scene and immediately requested the Second Alarm bringing the Engine and Tanker from Company 3 and additionally Tower 9. First due units ... (Full Story & Photos)


We Need Some Rain

Public Information Officer Douglas Medley, April 19

It sure seems that way for the whole state of Maryland and today was an example of what to keep expecting if we don't get some rain soon. The tones sounded for a brush fire on Loveville road off of Maryland Route 235 and dispatch advised units marking up on the air and responding that they would have a working fire. This was in Company 7's (Hollywood) first due with Company 2 (Mechanicsville) and ... (Full Story & Photos)



Chief 7 Brady getting a handle on the situation.


Multiple Companies Respond To The 9-03 Box For A Large Brush Fire

Bay District Volunteers, April 12

Just after 9pm Station 9 was alerted for an outside fire behind the RC Theaters. Brush 9 responded shortly after dispatch and while enroute communications advised that the police were on scene and had a large fire in the clearing at the construction site and were trying to figure out access. Based on that information Brush 9 asked to have the Pumper Tanker from St. 9 respond.

Brush 9 arrived on ... (Full Story & Photos)


Volunteers to Hollywood House Fire

Bay District Volunteers, April 09

At around 10 minutes before noon Companies 7,1,9,3,5 were all alerted for the working fire in Hollywood. Units were quick to respond following the dispatch and Captain 13 reported heavy fire conditions from civilians near the house.

Captain 7 requested a 2nd alarm for the call after a phone call with the neighbors of the house reporting a large house well involved. Dispatch quickly sounded for the ... (Full Story & Photos)

Company 9 Assist Co 1 on Working Fire

Bay District Volunteers, April 05

Company 9 was dispatched for a working structure fire in Leonardtown.

Engine 11 arrived on scene to find a shed on fire with extension to the house. Crews quickly worked to extinguish the fire on the house and the shed. Crews worked to make sure the house did not have any hot spots remaining and overhauled the shed area that burned.

Engine 91 assisted the other units on scene with the overhaul ... (Full Story & Photos)


High Angle Rescue In Rear Of Station 9

Public Information Officer Douglas Medley, April 05

This was one of the unusual calls that you can sit around the firehouse for weeks or months and never get one. Let me tell you about this one. As I was walking from my car into the firehouse I heard someone yelling something which I couldn't make out to well or where it was coming from. As I continued to hear someone shouting, I finally realized it was a guy way up on the communications tower behind ... (Full Story & Photos)



Man roped up and coming down.



Front of the Building.

No Aprils Fools In the 301 BOX

Bay District Volunteers, April 01

In the early morning hours of April 1st stations 3, 13, 9, & 7, 38 & 39 were all alerted for a vehicle into a structure on fire at 01:33 hours. Engines 32, 132, 91, Truck 3 & Captain 3 (Burroughs) were all responding about 90 seconds after dispatch. Dispatched advised Captain 3 the occupant of the vehicle was out per the police.

Engine 32 arrived on scene at 01:37 advising of a 2 story building with ... (Full Story & Photos)


Web Counters
Website Visitors
Since
February 15, 2004

Visitors Today
May 04, 2016

Station 3
46900 S. Shangri La Drive
Lexington Park, MD 20653

Station 9
45774 Fire Department Lane
California, MD 20619